Howa 1500 GRS Warg Rifle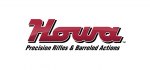 Every Howa Rifle from firing pin to barrel is perfectly designed, quality machined, fitted with exacting tolerances and all with superior hammer forged pre-hardened steel. All Howa Rifles are equipped with outstanding technical features and innovations.Howa Actions feature a machined receiver and forged bolt. The bolt features an integral bolt handle and pressure vent holes.
Reliable M-16 style extractor and ejector. Our factory barrels are cold hammer forged steel and are chambered symmetrically at center of axis with head space set to stringent and exacting specs. Bolt faces are true and square to the chamber.
PLEASE NOTE: Delivery times may be longer for various Calibre options.

Available to Back Order
Available to order
Product Description
Perfect adjustability and ergonomics!
The GRS Warg stock gives you the best of two worlds.
Fully adjustable, & ergonomic, and the best features of a rigid chassis stock fore-end.
You can use our top-mounted GRS bipod, front-mounted Night Vision, IR illuminators, - and more - thanks to its very adaptable M-Lok patterned aluminum forend. The GRS Warg is developed for the long-range shooter and is one of our absolute favorites combined with a 338 Lapua rifle.
FEATURES
Barrel channel: 1,85 in, 47 mm
Specific right hand angled grip
Adjustable length of pull 35cm - 38cm
Multiple calibre & barrel length options
Pillar bedded GRS design
Included with flush cup sling mounts & push button sling loops
Rubber-grip surfaces increase friction in wet weather conditions
Quick push-button adjustable cheek piece & length of pull
SPECIFICATIONS
TRIGGER: Two Stage HACT-2 Trigger 3-Position safety
MUZZLE THREAD: (.204-.223) 1/2" UNEF (.243-.300 PRC) 5/8"x24 UNEF
ADJUSTABLE CHEEK PIECE: Yes
ADJUSTBALE LENGTH OF PULL: Yes
STOCK MATERIAL: Polymer/Steel
STOCK FINISH: Green/Brown/Black
MAGAZINE COMPATABLE: Yes (Inlet specific)
BARREL LENGTH: 20", 24" & 26" Available
TWIST RATE: 1:7.5/1:8/1:10/1:12
BARREL PROFILE: Heavy Barrel
BARREL & ACTION FINISH: Blued or Cerekote Black
DELIVERY INFO
A delivery cost will be added to your order at checkout and is relevant for standard delivery to England, (parts of) Scotland and Wales (excluding Channel Islands) at £6.95 for 2-3 day delivery.
PLEASE NOTE: All items deemded as a 'Firearms' or over the standard delivery weight limit (Gun Safes) may have extra charges for delivery. You must enter an RFD (registered firearms dealer) address at the checkout for all firearms orders that are not being collected in store.
Delivery costs to the Highlands and Islands are detailed at the checkout.
Please see full information here
RETURNS/CANCELLATIONS
As detailed in our Terms and Conditions you may cancel your order at any time up to the end of the seventh (7th) day from the date you received the goods. Unless the Goods are faulty (verified by us) or obviously not the goods originally ordered we reserve the right to reclaim all costs incurred by us in recovering them from you and may set such costs off against the amount to be re-credited to your debit or credit card. See more info here

Note: Currently not available for delivery to Ireland, Europe, North America, Australia and New Zealand and R.O.W..
ZERO MY RIFLE
Benefits from buying your new rifle & scope at Rifleman Firearms. One of our unique services we offer free to package purchasers, is to professionally set up your new rifle, level the scope, set up the correct eye relief and zero it on one of our ranges, so you are ready to shoot as soon as you head home. So, there's no need to find a sheltered corner in your local field and lay down in wet grass to try and zero it - we will do that with you in controlled conditions to ensure greater accuracy and save you time, ammunition and money!
Product Features
Barrel Length: 20", 24", 26"
Calibre: .22-250, .223, .243, .300 Win Mag, .308, .6mm Creedmoor, 300 PRC, 6.5 PRC, 6.5mm Creedmoor
Collect in Store
This item is available for collection.
Home Delivery
UK mainland delivery from £25.00
Loyalty Scheme
Earn up to 1319 loyalty points with this product.
People who bought this also bought...
---
---
---
---
---