---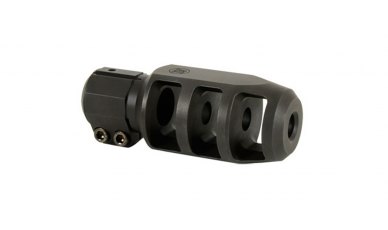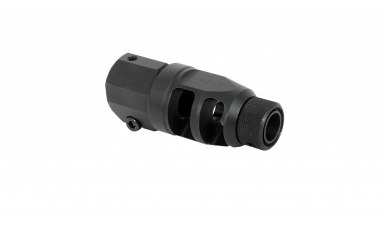 ---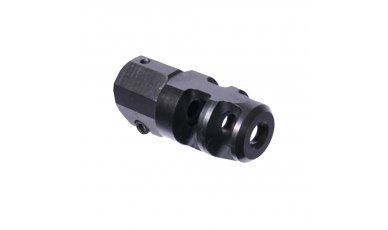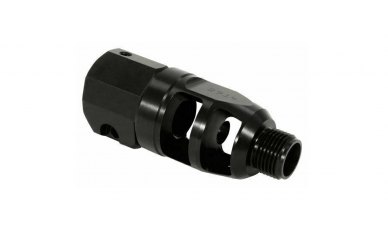 ---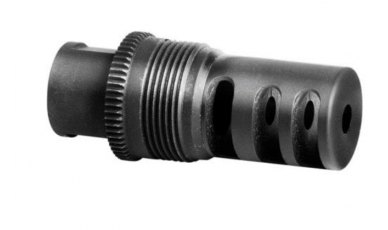 Ase Ultra Borelock .223/ 5.56 Cal Muzzle Brake
Ase Utra Radien is an over-barrel suppressor that combines light weight and superior sound and recoil reduction. It weighs only 290 grams, but provides net suppression of 29–31 dB on the ear level with a .308 win. These qualities make it ideal for any hunter. Radien is manufactured from hard anodized aluminium and designed for .223/6.5mm and .30 non-magnum calibres. There are three different color options available so you'll be able to select a suppressor that matches your own rifle perfectly.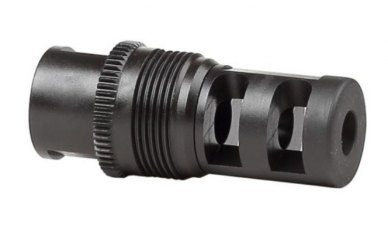 ---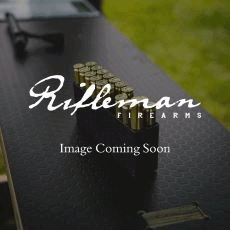 ---
---
GunWarrior Erik Cortina 5-Port Tuner Brake
The WARRIOR 5-Port Tuner Brake is a new addition to our Muzzle Brake range. An extra ports means more braking power suited for larges calibers. It is based on the hugely effective Erik Cortina tuner brake but with WARRIOR muscle. It is a muzzle brake and barrel tuner in one making the fine-tuning of your loads a lot easier.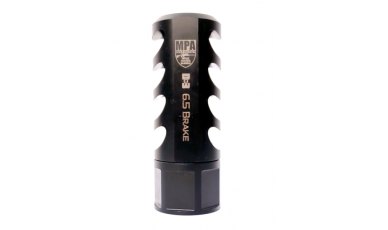 Masterpiece Arms Premium Muzzle Break
These brakes are specifically designed to be used in PRS style competitions when extreme recoil reduction is required during the firing of the rifle to allow the shooter to stay on target for follow up shots. Using our special testing system, we have tweaked the design to achieve a 63% reduction in recoil. The jam nut collar system utilizes a design that allows the shooter to jam the nut and brake against each other in the appropriate position on the muzzle of the rifle. There are 2 machined flats that are used to both level the brake body as well as interfacing with an adjustable wrench for installation of the brake. It not only eliminates the need for ground shims, but also aligns the ID of the brake perpendicular with the shoulder of the barrel, minimizing initial point of impact shift.
---
MDT Elite Muzzle Brake
The MDT Elite Muzzle Brake reduces recoil helps you to spot impacts. The MDT Elite Muzzle Brake has 35 degree angled baffles for increased recoil reduction while keeping a more streamlined design.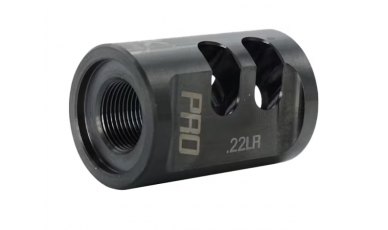 TIPPMANN ARMS TANDEMKROSS GAME CHANGER PRO MUZZLE BRAKE 1/2" UNEF
Introducing the new "Game Changer PRO" steel compensator from TANDEMKROSS. An ideal upgrade for any rimfire competitor looking to reduce muzzle rise, shoot faster and with more accuracy. Like our original physicist-designed "Game Changer" Compensator, the "Game Changer PRO" was designed to perfectly offset the .22lr cartridge. The stainless steel compensator adds weight to the front of the pistol for better balance, reducing muzzle rise and improving accuracy when moving quickly between targets. The compensator vents gases at dual 45° angles for better visibility and control. The "Game Changer PRO" is easy to install and fits any standard 1/2 x 28 threaded barrels. When shooting rimfire competition, even milliseconds can mean the difference between first place and second place. And while .22lr pistols and rifles aren't known for their muzzle rise, even a small amount of muzzle rise can make moving between targets quickly and accurately a challenge.