Walther
THE FIRST CENTURY
Walther: 130 years of innovation in gun manufacturing
For centuries, areas with ore deposits have been centers of firearms manufacturing. An important example is the region around Suhl and Zella-Mehlis in Thuringia. Modest blacksmiths gave rise to special trades such as that of rifle maker, which was the trade of the forefathers of the Walther family. One of them was August Theodor Walther, who married the granddaughter of the respected rifle maker Gustav Wilhelm Pistor, from Asbach-Schmalkalden. Their son, Carl Wilhelm Freund Walther, laid the foundation for the Walther company. Born in 1858, he started his own rifle making business in 1886. With the assistance of his apprentice, Carl Walther began to manufacture hunting and target shooting rifles with Martini and Aydt breech block actions. At that time, the 28-year-old had very little equipment and few tools at his disposal.
---
Walther Reign PCP Air Rifle
This compressed air rifle is a real eye-catcher. The short bull-pup construction alone makes it stand out from the crowd. But when you hold the Walther Reign in your hands, its real uniqueness reveals itself: First of all, the light weight impresses. The high quality aluminum components made of high-strength aluminum are immediately noticeable. The rifle's surface has a masterful grip texture in all the right places. When you pull it into your shoulder it becomes one with your body. Its operation is so smooth and comfortable that you can locate and operate the cocking lever without losing sight of the target - whether you're left-handed or right-handed. Light, short and easy to handle, the Walther Reign is ideal for target shooting. Its technology, style and precision are so convincing it's no surprise the first bull-pup rifle developed and built by Umarex is Made in Germany.
Walther Rotex RM8 Classic Beech PCP Air Rifle
The Walther Rotex RM8 is a multicultural marvel: English style, Italian wooden stock by Minelli, but made in Germany through and through. This eight-shot compressed air rifle comes in a range of energies for hunting and recreation. The ergonomic stock fits perfectly in your hands. The barrel, manufactured by Walther, has a 1/2" UNF thread for a silencer. A filler valve and pressure gauge are built in, but sights are not provided because this rifle is designed for use with a telescopic sight.
---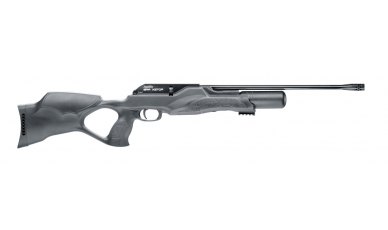 Walther Rotex RM8 Varmint PCP Air Rifle
The Rotex RM8 with its handsome Minelli wooden stock is a real eye-catcher. But many Rotex fans will want to take this rifle out into the countryside, where they may have to carry it through dense undergrowth. Such users will do better with the RM8 Varmint with its futuristic synthetic thumbhole stock. The black surface is more resistant to scratches, and HI-GRIP™ areas on the grip and forearm ensure secure handling.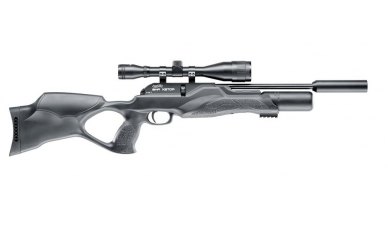 Walther Rotex RM8 Varmint Ultra Compact PCP Air Rifle
The Rotex RM8 Varmint UC is a spirited, dynamic version of the classic compressed air rifle. The barrel of the Ultra Compact has been shortened to bring the center of gravity towards the center for better agility and faster shooting. You'll find that the UC has all the robustness of the original Varmint. Its tough polymer body withstands the most demanding use. The Hi-Grip surfaces and thumbhole stock sit well in your hand, and the oversized bolt ensures intuitive handling.