Hornady Cartridge Case .308 WIN Match (50ct)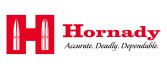 At Hornady,® brass is the foundation for what could be the most memorable shot of your lifetime. Extra time and care is taken in the creation of our cases, producing smaller lots that meet strict quality standards.
Our cases offer reloaders excellent uniformity in wall thickness, weight and internal capacity. We measure for consistently tight wall concentricity and even run our cases through a pressure calibration test to ensure uniform case expansion during firing.
Our cases allow proper seating of the bullet, not only in the case, but in the chamber as well. High quality brass contributes to consistent charges and pressures.

Available to Back Order (allow 9 weeks for delivery)
Product Description
Executive leadership of the Hornady Manufacturing Company has not faltered in the firm's first 60 years. What was created in 1949 grew sound enough and strong enough to survive the cruel blow of losing the founder 32 years later. Under Steve Hornady's leadership, and with the active support and involvement of the Hornady family, the business has doubled, and doubled again, and doubled again. In 2006, Jason Hornady, Steve's son, returned to the company as director of sales and is currently vice president. The stature of Hornady Manufacturing Company within its industry has never been higher.
PRODUCT DETAILS
TIGHT WALL CONCENTRICITY
Concentricity helps to ensure proper bullet seating in both the case and the chamber of your firearm. Higher concentricity also aids in a uniform release of the bullet on firing, for optimal velocity and accuracy.
UNIFORM CASE WALL THICKNESS
Benchrest shooters have long known that uniform case wall thickness is vital to accuracy. We manufacture to extremely tight tolerances to ensure this critical element is as consistent as possible.
MORE RELOADS PER CASE
We treat Hornady brass as the foundation for an accurate cartridge, not a commodity. Because we take greater care in its creation you'll get more reloads from Hornady brass.
CONSISTENT WEIGHT AND CAPACITY
Every single Hornady case, regardless of the lot in which it was produced, is virtually identical to other Hornady cases in the same caliber. For you, this means consistent pressures, velocity and accuracy — every time.
DELIVERY INFO
A delivery cost will be added to your order at checkout and is relevant for standard delivery to England, (parts of) Scotland and Wales (excluding Channel Islands) at £6.95 for 2-3 day delivery.
PLEASE NOTE: All items deemded as a 'Firearms' or over the standard delivery weight limit (Gun Safes) may have extra charges for delivery. You must enter an RFD (registered firearms dealer) address at the checkout for all firearms orders that are not being collected in store.
Delivery costs to the Highlands and Islands are detailed at the checkout.
Please see full information here
RETURNS/CANCELLATIONS
As detailed in our Terms and Conditions you may cancel your order at any time up to the end of the seventh (7th) day from the date you received the goods. Unless the Goods are faulty (verified by us) or obviously not the goods originally ordered we reserve the right to reclaim all costs incurred by us in recovering them from you and may set such costs off against the amount to be re-credited to your debit or credit card. See more info here

Note: Currently not available for delivery to Ireland, Europe, North America, Australia and New Zealand and R.O.W..
ZERO MY RIFLE
Benefits from buying your new rifle & scope at Rifleman Firearms. One of our unique services we offer free to package purchasers, is to professionally set up your new rifle, level the scope, set up the correct eye relief and zero it on one of our ranges, so you are ready to shoot as soon as you head home. So, there's no need to find a sheltered corner in your local field and lay down in wet grass to try and zero it - we will do that with you in controlled conditions to ensure greater accuracy and save you time, ammunition and money!
Product Features
Calibres: 308 WIN- American Series, 308 WIN- Custom Grade
Collect in Store
This item is available for collection.
Home Delivery
UK mainland delivery from £6.95
Loyalty Scheme
Earn up to 40 loyalty points with this product.
People who bought this also bought...
---
---
---
---
---