FX
---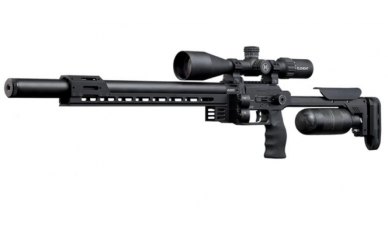 FX Panthera 500 Air Rifle
The FX Panthera is unlike any previous FX Airguns rifle. It is a dedicated slug rifle, purpose-built with precision competition in mind, accelerating the FX Airguns legacy and pushing the boundaries of airgun performance. The Panthera includes technology displaying a generational leap-forward for an airgun. It begins with the new Dynamic Block, a new breech block designed from the ground up for performance slug shooting. The Dynamic Block utilizes a compact one-piece valve. This High-Power / Short-Impulse Valve is extremely efficient while allowing an immense and precise flow of air.
FX Panthera FAC Air Rifle
When developing the FX Panthera 600, the Swedish FX Airguns really has focussed on long range competition shooting with slugs. They aimed for a PCP airgun that could easily compete with .22LR rifles. For this, an exceptionally powerful and accurate air rifle is needed and to do just that, FX has upped their game once again. Both technical and functional, this FX Panthera 600 really is purpose built. For instance, the FX Panthera 600 features a 17.75" Arca rail over the full length of the fore-end with M-LOK slots into which optional balancing weights can be attached. There's also a barricade block for perfect repetitive positioning and an optional bag rider can be mounted. More about the design later, let's first focus on the impressive engineering of this FX Panthera 600.
---
FX True Ballistic Chronograph
The True Ballistic Chronograph represents a revolutionary shift in the way ballistics are measured. Its a chronograph that always works, gives actual ballistic coefficients for the round being tested and uses multiple velocity readings for accurate results. All in a compact portable package. No external triggers, microphones, tripods or external power needed, just a fool proof set up with all the information you will ever need for an accurate and true ballistic calculation.
FX Categories