Featured Products
CZ Rimfire 457 Synthetic 20" Rifle
The CZ 457 Synthetic is an extremely lightweight rimfire rifle that's built to withstand the most adverse weather conditions you encounter. Weighing in at only 2.4 kg (with empty magazine), it features an extremely durable fiber-reinforced polymer stock that comes with CZ's SOFT-TOUCH coating for a comfortable and reliable grip, even when faced with most punishing environmental conditions, such as cold, heat and humidity. The stock has also been designed with perfect symmetry, so it feels like home for both right-handed and left-handed shooters.
Our Price £545.99
inc VAT
£454.99 ex VAT
CZ Rimfire 457 Thumbhole 20" Rifle
With an artful design and perfect ergonomics, the 457 Thumbhole has a sturdy laminated stock with a unique integrated trigger guard and comes in a classy grey/brown color scheme. With symmetrical features, this modern thumbhole is equally comfortable for both right-handed and left-handed shooters. The stable nature of the laminated stock and varmint cold hammer forged barrel allow shooters to effectively engage medium and long-range targets. The Thumbhole is chambered in .22 LR and comes with a 20" barrel, with the option of chambering in the more powerful .17 HMR or .22 WMR. Its muzzle is threaded ½ x20 UNF and comes equipped with an efficient cylindrical compensator.
Our Price £831.99
inc VAT
£693.33 ex VAT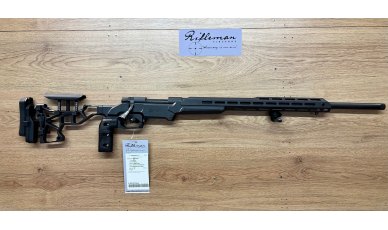 ---
---
---
---
---
---
---
---
---
---
---
---
---
---
---
---
---
---
---
---
---
---
---
---