Sig Sauer Cross Rifle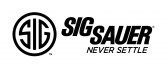 Designed and built from the ground up at the SIG SAUER research and development facilities in New Hampshire with the input of hunters, military snipers and elite long-range shooters, the CROSS rifle was created to meet the demands of both precision long-range shooting and extreme backcountry hunting.
Check out our review of the NEW Sig Sauer Cross

Available (allow 5 business days for delivery)
Available to order
Product Description
In our world-class facilities, we build the toughest, most precise rifles, pistols, suppressors, optics, ammunition, and airguns, while offering the finest firearms training — all as a fully integrated system. We do this because we share the same drive to be the best, the same love of freedom, the same unwillingness to compromise — as those who choose SIG.
FEATURES
- Under 6.5 lbs, the lightest, most portable rifle in its class (up to 40% lighter)
- Folding Precision-Style Stock
- 1-Piece receiver for increased accuracy
- Available in .308 / 277 SIG FURY with a 16" barrel (collapsible to 25")
- Available in 6.5 Creedmoor with an 18" barrel (collapsible to 27")
- Designed and built in the U.S.A
DELIVERY INFO
A delivery cost will be added to your order at checkout and is relevant for standard delivery to England, (parts of) Scotland and Wales (excluding Channel Islands) at £6.95 for 2-3 day delivery.
PLEASE NOTE: All items deemded as a 'Firearms' or over the standard delivery weight limit (Gun Safes) may have extra charges for delivery. You must enter an RFD (registered firearms dealer) address at the checkout for all firearms orders that are not being collected in store.
Delivery costs to the Highlands and Islands are detailed at the checkout.
Please see full information here
RETURNS/CANCELLATIONS
As detailed in our Terms and Conditions you may cancel your order at any time up to the end of the seventh (7th) day from the date you received the goods. Unless the Goods are faulty (verified by us) or obviously not the goods originally ordered we reserve the right to reclaim all costs incurred by us in recovering them from you and may set such costs off against the amount to be re-credited to your debit or credit card. See more info here

Note: Currently not available for delivery to Ireland, Europe, North America, Australia and New Zealand and R.O.W..
Product Features
Calibre: .308, 6.5mm Creedmoor
Video
Please allow Cookies to view video content
Collect in Store
This item is available for collection.
Home Delivery
UK mainland delivery from £25.00
Loyalty Scheme
Earn up to 2148 loyalty points with this product.