---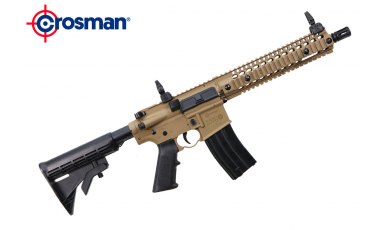 Crossman R1 BB rifle
This is the incredible R1 tactical air rifle from Crosman. This R1 is a Semi-Auto BB air rifle that maximizes back garden fun! Powered by two 12-gram CO2 cartridges and a 25 round 4.5 steel BB magazine. The rifle features a genuine feel, familiar controls and all at a jaw-dropping rate of up to 430 FPS. This rifle is also fully customisable with a 6 position adjustable stock, AR compatible buttstock/pistol...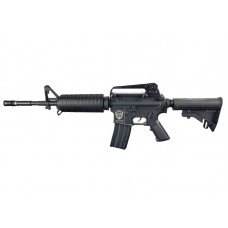 Hellboy M4 co2 rifle
HellBoy M4 Semi Auto CO2 Tactical Air Rifle Specification 18-rd BB magazine Semi-Automatic One 12 gram CO2 cartridge fits into magazine Velocity: 495 FPS Full-metal receiver, magazine, and barrel Weaver/Picatinny optics rail (removable carry handle) Full metal action, plastic only used on retractable stock, pistol grip, and handguard Non-adjustable trigger Field-Strippable Integrated...
---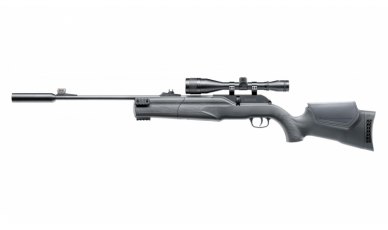 Umarex 850 M2 Empire Air Rilfe Kit
The Umarex 850 M2 powered by an 88 g CO? capsule resembles a traditional repeating rifle and offers a wide range of features: a 1/2"-20 UNF muzzle thread, up to three Picatinny rails, a removable additional cheek piece for shooting with a telescopic sight, a polymer stock and a high-quality aluminum magazine. The Target Kit also includes a 6 x 42 telescopic sight, K3 Neo silencer, adapter tank for two 12 g CO? capsules, pellets and targets.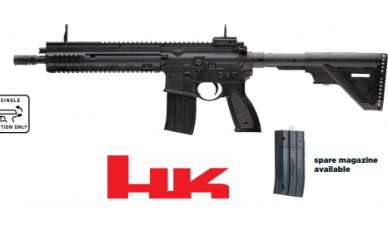 Umarex Heckler & Koch HK416 A5 C02 Air Rifle
The Heckler and Koch HK416 A5 is regarded as the 'next evolution of assault rifles' in Heckler and Kochs 5th generation of the formidable HK416 series . This CO2-operated airgun strictly follows the design of the successful model and conveys tactical flair in recreational shooting with 4.5 mm steel BBs. Designed with efficiency in mind: An enduring drive from two 12 g CO2 capsules, a 30-round magazine and an additional reservoir for 100 steel BBs guarantee a long-lasting shooting experience with a high fun factor. For precision, the HK416 A5 relies on a steel inner barrel, flip-up sights and a Picatinny rail for alternative scope mounting. Typical of this model, features such as the Picatinny quad rail, the ambidextrous fire selector and the 5-stage collapsible stock are also found on the CO2-operated airgun.
---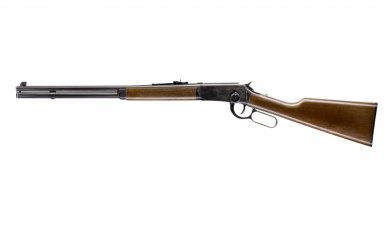 Umarex Legends Cowboy Black Lever Action Air Rifle
Load, cock, fire, reload and hear the cartridge hit the ground – the CO? version of the Legends Cowboy Rifle will put you back in the Wild West. And although it shoots steel BBs, its underlever operation and loading shell ejection make it feel just like a repeater from the old days. The classic design and antique finish, based on legendary Winchester models, add to the overall effect. The Cowboy Rifle is also a winner when it comes to accuracy. It is easy to grip and has convincing design features, including an all-metal break-down receiver. With its combination of advanced CO? technology and nostalgic charm, this rifle is sure to offer plenty of fun.
---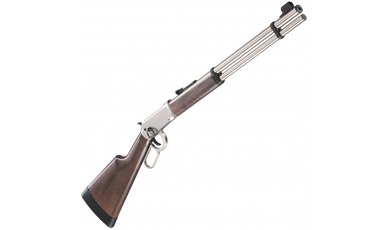 Walther Lever Action Steel Air Rifle
The Walther Lever Action models successfully bring together tradition and innovation: a legendary American repeater combined with the latest CO? technology. The large 88 g CO? Operating this repeater puts you right back in the Wild West. It works like the legendary original: When you push the lever forward, it moves the rotary magazine ahead by one position, at the same time drawing back the bolt and cocking the hammer. With its receiver and high-quality beech stock, the Walther Lever Action cannot be overlooked. An American legend lives on – made in Germany.