---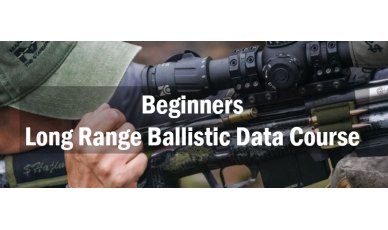 Beginners Long Range Ballistic Data Course
OUR BEGINNER'S LONG RANGE BALLISTIC DATA COURSE IS A GREAT WAY TO PREPARE YOURSELF AND YOUR RIFLE FOR AN UP-AND-COMING LONG RANGE DAY. IN THE COURSE WE COVER EVERYTHING YOU WILL NEED TO KNOW BEFORE YOU STEP OUT ONTO THE RANGE AND MAKE SURE YOU HAVE THE CORRECT DATA YOU NEED TO HIT THE TARGET. We start by chronographing your rifle, we then take a look at the data and discuss vital aspects of your shooting profile that will dictate your accuracy. If you don't have an app or ballistic calculator don't worry as we can use one of our own to create a unique profile for your rifle. What do I need to attend this course: Rifle with mounted optic Appox 40 rounds Bipod or shooting rest Note pad Your Firearms certificate

Firearms Awareness Course (Inclusive of shooting various calibre rifles)
FIREARMS AWARENESS, SAFE HANDLING & PUBLIC SAFETY COURSE Rifleman Firearms offers a 1/2-day comprehensive overview and police recognised firearms awareness training course designed to enlighten the new shooter on both the theory and practical elements of rimfire and centrefire rifle shooting. The rifles available to shoot include .22lr, .17HMR, .223, .243, 6.5 Creedmoor & .308 with an indepth look at the ballistics of each calibre.
---
Tactical Handgun Training Course
1h 45mins course includes: Use a (replica) glock 17 gen 4 which was issued to British armed forces in January 2013 as a backup sidearm in Afghanistan. In depth tuiton for safe handling and firearm awareness . Learn skills for grip, stance, fast magazine transitions & target acquisition. All equipment and ppe provided.