Hornady Match Grade Bushing .256"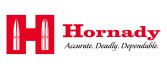 The Hornady Match Grade Bushing is required for use with the Hornady Neck Sizing die. It is a self-centring, interchangeable bushing for extreme precision in neck sizing.

Available (allow 4 weeks for delivery)
Product Description
Executive leadership of the Hornady Manufacturing Company has not faltered in the firm's first 60 years. What was created in 1949 grew sound enough and strong enough to survive the cruel blow of losing the founder 32 years later. Under Steve Hornady's leadership, and with the active support and involvement of the Hornady family, the business has doubled, and doubled again, and doubled again. In 2006, Jason Hornady, Steve's son, returned to the company as director of sales and is currently vice president. The stature of Hornady Manufacturing Company within its industry has never been higher.
PRODUCT DETAILS
Notes:
Bushing fits in Hornady Match-Grade full length and neck sizing die
Bushing is self-centring in die body

Use of Hornady Match Grade Neck and Full Length Dies and Bushings:
Hornady Match Grade dies have a separate, interchangeable neck size bushing (not included with die).
The dimension of the bushing (inside diameter, listed) determines the neck size when the brass is inserted into the die.
Standard dies size to SAAMI minimum specification and this is often not necessary, as a particular rifle, brass type and chamber may not need minimum dimensions. Less sizing results in less working of the brass.
Using some loaded or dummy cartridges that fit the rifle's chamber without excessive play, measure the diameter of the case neck. Subtract .001" from that diameter and the result should be a reasonable starting point for the correct bushing dimension. Select a size that is at that dimension or just under it.
Bushings work in both the neck and full length Match Grade dies. The bushings are available in .002" increments.
DELIVERY INFO
A delivery cost will be added to your order at checkout and is relevant for standard delivery to England, (parts of) Scotland and Wales (excluding Channel Islands) at £6.95 for 2-3 day delivery.
PLEASE NOTE: All items deemded as a 'Firearms' or over the standard delivery weight limit (Gun Safes) may have extra charges for delivery. You must enter an RFD (registered firearms dealer) address at the checkout for all firearms orders that are not being collected in store.
Delivery costs to the Highlands and Islands are detailed at the checkout.
Please see full information here
RETURNS/CANCELLATIONS
As detailed in our Terms and Conditions you may cancel your order at any time up to the end of the seventh (7th) day from the date you received the goods. Unless the Goods are faulty (verified by us) or obviously not the goods originally ordered we reserve the right to reclaim all costs incurred by us in recovering them from you and may set such costs off against the amount to be re-credited to your debit or credit card. See more info here

Note: Currently not available for delivery to Ireland, Europe, North America, Australia and New Zealand and R.O.W..
Collect in Store
This item is available for collection.
Home Delivery
UK mainland delivery from £6.95
Loyalty Scheme
Earn up to 22 loyalty points with this product.