Hornady 25 CAL 110gr ELD-X (25418)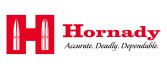 The ELD-X® (Extremely Low Drag - eXpanding) bullet is a technologically advanced, match accurate, ALL-RANGE hunting bullet featuring highest-in-class ballistic coefficients and consistent, controlled expansion at ALL practical hunting distances.

Available to Back Order
FEATURES
BEST-IN-CLASS BCS - Verified by Doppler radar, the Heat Shield® tip is immune to the effects of aerodynamic heating and retains its shape to maintain the highest-in-class BC over its entire trajectory.

MATCH ACCURATE HUNTING BULLET - Streamlined secant ogive with optimum boattail design + highly concentric AMP® bullet jackets + Heat Shield® tip combine for radically superior aerodynamic efficiency. ELD-X bullets are available in factory loaded Precision Hunter ammunition.

DEVASTATING CONVENTIONAL RANGE PERFORMANCE - With high velocity 0-400 yard impact, the bullet continually expands throughout its penetration path. The thick shank of the jacket and high InterLock® ring keep the core and jacket together providing 50-60% weight retention.
PRODUCT DETAILS
Calibre - 25 Cal. .257"
Product Line - ELD-X®
Sectional Density - .238
Ballistic Coefficicent- .465 (G1) & .234 (G7)
Twist Rate - 1-10" (Minimum Recommended)
Weight - 110 GR
Application - Medium Game 50-300 lbs
Box Count - 100
DELIVERY INFO
A delivery cost will be added to your order at checkout and is relevant for standard delivery to England, (parts of) Scotland and Wales (excluding Channel Islands) at £6.95 for 2-3 day delivery.
PLEASE NOTE: All items deemded as a 'Firearms' or over the standard delivery weight limit (Gun Safes) may have extra charges for delivery. You must enter an RFD (registered firearms dealer) address at the checkout for all firearms orders that are not being collected in store.
Delivery costs to the Highlands and Islands are detailed at the checkout.
Please see full information here
RETURNS/CANCELLATIONS
As detailed in our Terms and Conditions you may cancel your order at any time up to the end of the seventh (7th) day from the date you received the goods. Unless the Goods are faulty (verified by us) or obviously not the goods originally ordered we reserve the right to reclaim all costs incurred by us in recovering them from you and may set such costs off against the amount to be re-credited to your debit or credit card. See more info here

Note: Currently not available for delivery to Ireland, Europe, North America, Australia and New Zealand and R.O.W..
ZERO MY RIFLE
Benefits from buying your new rifle & scope at Rifleman Firearms. One of our unique services we offer free to package purchasers, is to professionally set up your new rifle, level the scope, set up the correct eye relief and zero it on one of our ranges, so you are ready to shoot as soon as you head home. So, there's no need to find a sheltered corner in your local field and lay down in wet grass to try and zero it - we will do that with you in controlled conditions to ensure greater accuracy and save you time, ammunition and money!
Video
Please allow Cookies to view video content
Collect in Store
This item is available for collection.
Home Delivery
UK mainland delivery from £6.95
Loyalty Scheme
Earn up to 46 loyalty points with this product.
People who bought this also bought...
---
---
---
---
---