Hornady .22 CAL 40gr V-MAX (22241)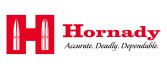 With its combination of proven materials, innovative design and streamlined profile, the Hornady® V-MAX® represents the pinnacle of what a specialized varmint bullet can achieve, offering straight-line trajectories, enhanced accuracy, dramatic expansion and explosive fragmentation at a wide range of distances and velocities.

In stock
Product Description
The industry's leading varmint bullet with polymer tip and streamlined design results in flat trajectories. The concentricity of the match grade AMP® bullet jacket provides maximum accuracy at all ranges as well as explosive expansion, even at velocities as low as 1600 fps.
FEATURES
POLYMER TIP - The secret to the explosive terminal performance of the V-Max® is a hollow cavity resting between the tip's shaft and the body of the bullet. Upon impact, the hard shaft builds up speed and energy before driving into the core, causing the entire package to rapidly expand to the point of violent fragmentation, even at low terminal velocities.

HIGHER BALLISTIC COEFFICIENT - Hornady® combines the sharp, pointed polymer tip with the most aerodynamic profile for a high ballistic coefficient. The V-MAX® profile also provides the maximum bearing surface for added in-flight stability.

SWAGED LEAD CORE - The swaging process allows precise formation of the core up and around the tip, with a cavity under the tip's stem. This allows the tip to build up energy before smashing into the core, causing dramatic fragmentation of the core and jacket.

PRECISE BOATTAIL & FLATBASE DESIGNS - Utilizing the proper base design provides incredible in-flight stability for long-range shooting.
PRODUCT DETAILS
CALIBER - 22 Cal. .224"

PRODUCT LINE - V-MAX®

SECTIONAL DENSITY - .114

BALLISTIC COEFFICIENT - .200 (G1)

WEIGHT - 40 GR

APPLICATION - Varmint < 50 lbs

BOX COUNT - 100 & 250
DELIVERY INFO
A delivery cost will be added to your order at checkout and is relevant for standard delivery to England, (parts of) Scotland and Wales (excluding Channel Islands) at £6.95 for 2-3 day delivery.
PLEASE NOTE: All items deemded as a 'Firearms' or over the standard delivery weight limit (Gun Safes) may have extra charges for delivery. You must enter an RFD (registered firearms dealer) address at the checkout for all firearms orders that are not being collected in store.
Delivery costs to the Highlands and Islands are detailed at the checkout.
Please see full information here
RETURNS/CANCELLATIONS
As detailed in our Terms and Conditions you may cancel your order at any time up to the end of the seventh (7th) day from the date you received the goods. Unless the Goods are faulty (verified by us) or obviously not the goods originally ordered we reserve the right to reclaim all costs incurred by us in recovering them from you and may set such costs off against the amount to be re-credited to your debit or credit card. See more info here

Note: Currently not available for delivery to Ireland, Europe, North America, Australia and New Zealand and R.O.W..
ZERO MY RIFLE
Benefits from buying your new rifle & scope at Rifleman Firearms. One of our unique services we offer free to package purchasers, is to professionally set up your new rifle, level the scope, set up the correct eye relief and zero it on one of our ranges, so you are ready to shoot as soon as you head home. So, there's no need to find a sheltered corner in your local field and lay down in wet grass to try and zero it - we will do that with you in controlled conditions to ensure greater accuracy and save you time, ammunition and money!
Video
Please allow Cookies to view video content
Collect in Store
This item is available for collection.
Home Delivery
UK mainland delivery from £6.95
Loyalty Scheme
Earn up to 27 loyalty points with this product.
People who bought this also bought...
---
---
---
---
---