Best Fittings Quick Coupler Plug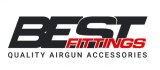 Add more fill probes to your BEST Fittings Starter Kit, BEST Fittings QC02 Quick Coupler Socketor compatible Foster 12FS, 12FSS and 12MS Straight Thru Quick Snap Couplers. Quality Stainless Steel, made in the UK.
BEST Fittings Quick Coupler Plugs QC03 will also connect directly to the snap coupler supplied with many popular rifles such as Daystate, Crosman, Benjamin etc. So if you already have one of those, then simply fit one of our Quick Coupler Plugs to each of your other fill probes to enjoy swift interchange of fill connectors.
Please note that BEST Fittings standard quick coupler male components are not compatible with the all stainless steel Brocock Enigma & AimX Original Fitment connector. We do however offer a suitable component for that product, 02B3-ML04 Brocock Compatible Quick Coupler Plug.

Available to order
COMPATIBILITY
Air Arms: s200, s300, s310, s400, s410, s510, TDR, FTP900, EV2, Protarget, MPR, Shamal, XM100, NJR100, TM100 etc.
Armex: X10 etc.
BSA: Superten, Hornet, Ultra, Scorpion (T-10 and SE models also) R10, Lonestar etc.
Benjamin: Marauder, Challenger, Discovery, Silhouette etc.
Brocock: Enigma, Elite, Grand Prix, Aim X, Hunter, Contour, Concept etc
Career/Samyang/Sumatra: 707 909 2500 etc
Daystate: Air Wolf/Air Ranger, Huntsman, Harrier, X2, Wolverine, LR90, PH6, MK3, MK4 etc
Evanix: Blizzard, AR6, S10, Conquest etc
Falcon: Prairie & FN silencer quick fill (FN8 FN12 FN19) etc
FX: Axsor, 2000, Tarantula, Gemini, Cyclone, Gladiator, Verminator, Typhoon, Monsoon, T12, Cutlas, Ranchero, Super Swift, Storm, Rapier, Timber Wolf, Bobcat, Ultimate, Elite, Revolution, Royal etc
Gamo: Dynamax etc
Hatsan: AT-44, AT4,4 AT65, Galatian etc
Logun: Axsor, Gemini, Solo, MK1, MK2 Professional, Eagle, S16 etc
Edgar: XVi
Prestige: Cub, Kub, Blackcat etc
Ripley: XL9, AR5 etc
RWS: Rapier, Elite, Scimitar, Excalibre, Series 50, 500, LR20, LR25 etc
Theoben: Rapid 7, R7, MK1, MK2, MKII, MFR etc
Webley: FX2000, Axsor, Raider, Raider 10, Spectre, Venom, Viper, Sidewinder, Mamba etc
Weihrauch: HW100, HW101 etc
DELIVERY INFO
A delivery cost will be added to your order at checkout and is relevant for standard delivery to England, (parts of) Scotland and Wales (excluding Channel Islands) at £6.95 for 2-3 day delivery.
PLEASE NOTE: All items deemded as a 'Firearms' or over the standard delivery weight limit (Gun Safes) may have extra charges for delivery. You must enter an RFD (registered firearms dealer) address at the checkout for all firearms orders that are not being collected in store.
Delivery costs to the Highlands and Islands are detailed at the checkout.
Please see full information here
RETURNS/CANCELLATIONS
As detailed in our Terms and Conditions you may cancel your order at any time up to the end of the seventh (7th) day from the date you received the goods. Unless the Goods are faulty (verified by us) or obviously not the goods originally ordered we reserve the right to reclaim all costs incurred by us in recovering them from you and may set such costs off against the amount to be re-credited to your debit or credit card. See more info here

Note: Currently not available for delivery to Ireland, Europe, North America, Australia and New Zealand and R.O.W..
ZERO MY RIFLE
Benefits from buying your new rifle & scope at Rifleman Firearms. One of our unique services we offer free to package purchasers, is to professionally set up your new rifle, level the scope, set up the correct eye relief and zero it on one of our ranges, so you are ready to shoot as soon as you head home. So, there's no need to find a sheltered corner in your local field and lay down in wet grass to try and zero it - we will do that with you in controlled conditions to ensure greater accuracy and save you time, ammunition and money!
Collect in Store
This item is available for collection.
Home Delivery
UK mainland delivery from £6.95
Loyalty Scheme
Earn up to 8 loyalty points with this product.
People who bought this also bought...
---
---
---
---
---