---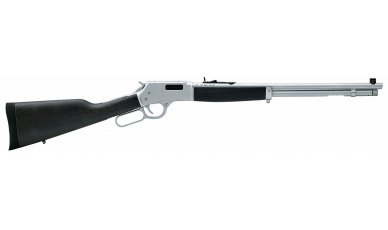 Henry Big Boy All-Weather Lever-Action Rifle
When we brought out the two All-Weather Henry lever action models in .30-30 and .45-70 in 2016, we knew we had another winner in the "Working Gun" category, and you've agreed with us to the point of extending the approach into a brand new Big Boy family member- the Big Boy All-Weather.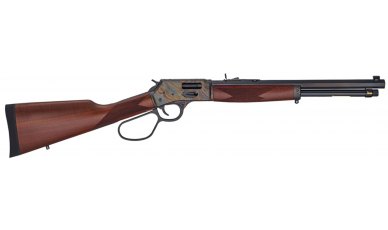 Henry Big Boy Color Case Hardened Side Gate Lever-Action Rifle
We made our initial centerfire reputation with the handgun-calibered Big Boy, so it was a logical choice to expand the steel-framed case-hardened finish into that line-up, and we've got six hard-workin' lever actions here that merge the classic looks of those beautifully-done case colors and octagonal barrels with the practicality of a side loading gate and lighter weight than the original brass models.
---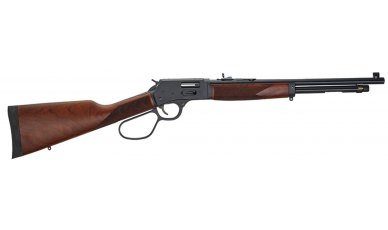 Henry Big Boy Steel Side Gate Lever-Action Rifle
While we are fond of the brass tradition begun by B.T. Henry's 1860 rifle, we do understand that today's hunter may prefer something a shade lighter on the mountain, and the Big Boy Steel Side Gate carries on the same brush gun appeal of the brass-framed Big Boys in its overall configuration, but with upgraded features for the modern hunter, while weighing in 1.68lbs. less than its cousin.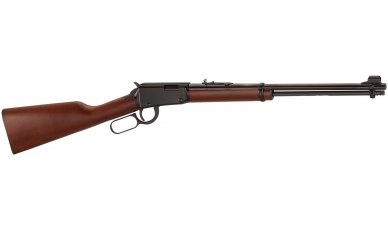 Henry Classic Lever Action .22 LR Lever-Action Rifle
The Henry Lever Action is a classic Western-style lever action rifle, and one of the most popular .22 caliber rifles on the market today. The reason for its popularity is because it shoots great, looks great and is remarkably affordable – about half the price of the competition's rifles.
---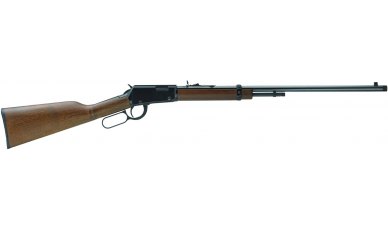 Henry Frontier Model Threaded Barrel 24" Lever-Action Rifle
As you can see from our wide selection of lever actions, we're big on both tradition in style, and quality in function. We merge both in the Frontier Models, and this suppressor-ready model is no exception. Before this model's introduction using a suppressor on a Henry rifle meant visits to a gunsmith for barrel threading and having to remove the suppressor every time the rifle needed to be reloaded. The Frontier Threaded Barrel 24″ model solves both of these issues with two distinct features, both of which make for a convenient way to use a silencer.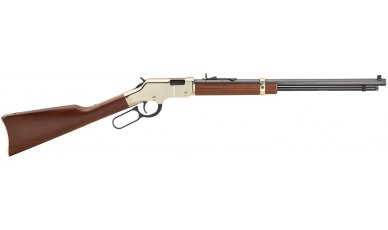 Henry Golden Boy Lever-Action Rifle
Whether you choose one chambered for .22 LR, the Henry Golden Boy is a masterpiece of fine crafted gunsmithing. Any shooting enthusiast who closely examines one is immediately impressed with the excellent fit, finish and overall visually elegant design. The Golden Boy rifle's awesome 20-inch blued octagonal barrel, American walnut stock, brass buttplate and gleaming Brasslite receiver will transport you back to the wild and wooley days of America's Old West, when Benjamin Tyler Henry designed the original Henry lever action rifle.
---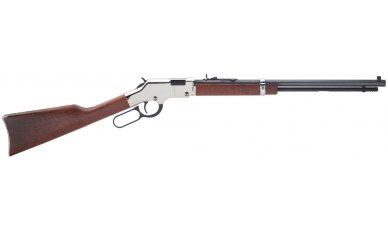 Henry Golden Boy Silver Lever-Action Rifle
Plating in firearms began initially as a method of corrosion-proofing in the days of blackpowder ammunition at least 150 years ago. Gunpowder at the time was highly corrosive, and working guns lived hard lives. Later on, plating with precious metals also became more important as decorative methods of creating more elaborately-embellished special-order guns. Nickel was the first as the electro-plating process evolved, and with a long history of tradition it's still the most popular with its ability to maintain a long-lasting wear and tarnish-resistant finish. It also happens to stand out in a crowd, and that's exactly what our new Golden Boy Silvers do, with no special-order delays and no special-order pricing.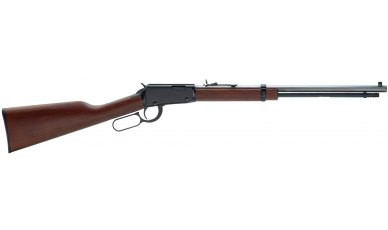 Henry Lever Action Octagon Frontier Rifle
Like stagecoaches, swinging saloon doors and Pony Express riders, there are many innovations of the Old West that have long faded from use and live on only in Western movies and history books. But there are still a few frontier staples that were so effective and ahead of their time that they remain in use today. Take, for instance, the intimidating octagonal barrels commonly found on the repeating rifles of that period. These heavy-duty workhorses sported added mass and extra weight to aid in heat absorption, making them the forerunners to the bull barrels used on modern target and varmint rifles.
---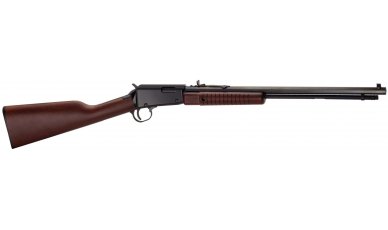 Henry Pump Action Octagon Lever-Action Rifle
The Henry Pump Action Octagon .22 rifle joins faded jeans, Mom's apple pie, a restored '57 Chevy as an all-American icon. Now fitted with a blue octagonal barrel, it resurrects the great old days of the traditional shooting gallery. The Henry Pump Octagon, available in calibers .22LR or .22 Magnum, is one gun that is built for fun.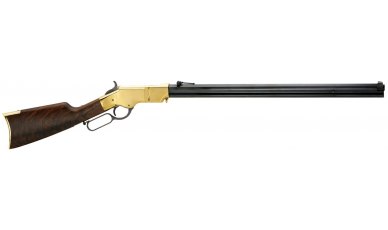 Henry The New Original Henry Lever-Action Rifle
In the late 1850s, metallic cartridges were the coming wave of firearms technology, and besides the difficulties inherent to developing reliable and effective self-contained rounds the new ammunition demanded equally new gun designs capable of taking full advantage of what the quick-loading cartridge offered. Cartridges that revolutionized a field of slow-loading, slow-firing, and slow-reloading powder & ball single-shots freed designers to create a rifle that could keep up, and the very talented Benjamin Tyler Henry quickly stepped to the front in both areas. The result was the legendary repeating rifle that became known as the 1860 Henry, in .44 Henry Rimfire.
---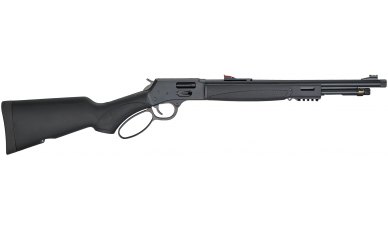 Henry X Model Lever-Action Rifle
Creating the mold and then breaking out of it is something that we take great pride in. It's how we progress and continue pushing the boundaries of what lever actions are capable of. The Big Boy X Model does just that and marks an evolutionary step in a product line with quite the pedigree. Modern hunters and shooters need a robust platform with the versatility to perform several different jobs and the X Model provides it right out of the box. The Big Boy X-Model is packed with a high-performance feature set and plenty of room to add even more. The durable synthetic furniture is equipped with integrated mounting points for a sling, a solid rubber recoil pad, and both Picatinny and M-Lok accessory slots to aid in mounting the tools you need for the task at hand. The carbine-length barrel is topped off with highly visible fiber optic sights, fore and aft, and the muzzle end is threaded (5/8×24 thread pitch) to accept a suppressor or other muzzle device. A screw-on thread protector ensures your muzzle threads stay in top shape.