Hornady 30 CAL 230gr A-Tip Match (3091)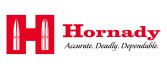 Years of research and testing by the Hornady® Ballistic Development Group, combined with advanced manufacturing processes and quality control measures have led to the creation of the ultimate low drag, high performance match bullet.

Available (allow 10 business days for delivery)
Available to Order
FEATURES
-TIP DESIGN
Aluminum tip is precision machined and longer than polymer tips which moves the center of gravity and enhances inflight stability.
Aeroballistically advanced tip design results in tighter groups and reduced drag variability.
Perfect blend of ogive, tip length, bearing surface and optimized boattail by caliber.
-PERFORMANCE
Doppler radar verified low drag coefficient (high BC) bullets are forgiving of twist rate, seating depth and muzzle velocity.
Refined design of the AMP® bullet jacket offers industry leading uniformity and concentricity.
-MANUFACTURING
Right off the press – sequentially packaged, one clone after another for the ultimate in consistent performance.
Minimal handling throughout the manufacturing process ensures consistency from bullet to bullet.
Packaged with a polishing bag to prepare bullets for loading (bullets aren't bulk washed after manufacture).
PRODUCT DETAILS
Calibre - 30 Cal. .308"
Product Line - A-Tip Match
Sectional Density - .346
Ballistic Coefficient - .823 (G1) & .414 (G7)
Twist Rate - 1:9 (Minimum Recommended)
Weight - 230 GR
Applciation - Target/Match
Box Count - 100
DELIVERY INFO
A delivery cost will be added to your order at checkout and is relevant for standard delivery to England, (parts of) Scotland and Wales (excluding Channel Islands) at £6.95 for 2-3 day delivery.
PLEASE NOTE: All items deemded as a 'Firearms' or over the standard delivery weight limit (Gun Safes) may have extra charges for delivery. You must enter an RFD (registered firearms dealer) address at the checkout for all firearms orders that are not being collected in store.
Delivery costs to the Highlands and Islands are detailed at the checkout.
Please see full information here
RETURNS/CANCELLATIONS
As detailed in our Terms and Conditions you may cancel your order at any time up to the end of the seventh (7th) day from the date you received the goods. Unless the Goods are faulty (verified by us) or obviously not the goods originally ordered we reserve the right to reclaim all costs incurred by us in recovering them from you and may set such costs off against the amount to be re-credited to your debit or credit card. See more info here

Note: Currently not available for delivery to Ireland, Europe, North America, Australia and New Zealand and R.O.W..
Collect in Store
This item is available for collection.
Home Delivery
UK mainland delivery from £6.95